Swindon v Peterborough Speedway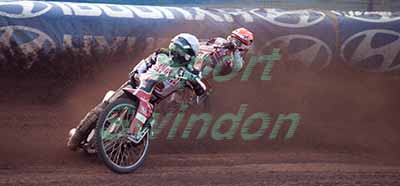 Match report from Swindon Robins.
Elite League: SWINDON 56 PETERBOROUGH 37
SWINDON returned to Elite League action at the Abbey Stadium on Thursday with a convincing 56-37 victory over Peterborough.
The Robins faithful have been starved of home speedway in recent weeks because of the atrocious weather that have swept the county, but the victory over the Panthers was played out to a bumper crowd in glorious conditions.
Peter Kildemand was the star of the show from the reserve berth with five stunning race wins in his 16-point score. Hans Andersen also had one of his best displays of the season with 11+3 against his former club and Nick Morris was very impressive whilst contributing 9+2.
Alun Rossiter's men hit the ground running from the very first race with Andersen and Morris opening-up the night with a 5-1 over Panthers number 1 Kenneth Bjerre – and although Panthers did offer some early resistance their lead never looked threatened.
Bjerre and Rene Bach hit back with a 4-2 in Heat 5, but another maximum from the Andersen and Morris pairing in Heat 6 put the Robins 21-15 ahead.
That lead become ten courtesy of the impressive Kildemand and Morris in Heat 8, but former Robin Ryan Fisher – guesting in place of Olly Allen – did reduce the deficit momentarily for the Panthers with a tactical ride victory in Heat 9 ahead of Troy Batchelor and Todd Kurtz.
But with Kildemand winning three of the final four races – and the Robins outscoring their rivals 18-6 in the process – it was more than enough to ensure they picked up the maximum three Elite League points on offer.
SWINDON 56: Peter Kildemand 16, Hans Andersen 11+3, Nick Morris 9+2, Troy Batchelor 8+1, Simon Stead 7+1, Robin Aspegren 4+1, Todd Kurtz 1+1.
PETERBOROUGH 37: Linus Sundstrom 12, Kenneth Bjerre 9, Ryan Fisher 9, Jesper B. Monberg 3+1, Rene Bach 2, Richard Lawson 2, Michael Jepsen Jensen R/R.