What no Pom Poms – Who are the Ligntning Cheerleaders?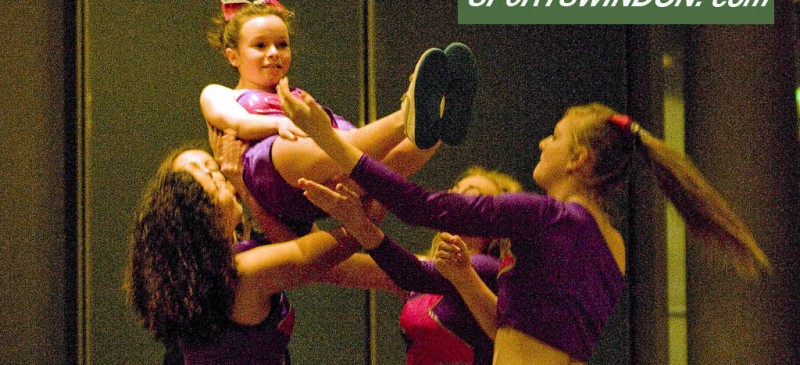 The Swindon Lightnings don't use PomPoms.
Swindon's only competitive cheerleading club, Swindon Lightning, is set to change perceptions of the sport; from that associated with the American movie industry, to a modern highly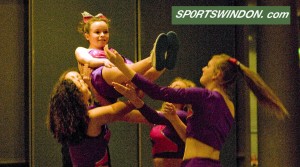 active and choreographed art-form sport.
Describing the modern sport of cheerleading, head coach Millie Pall said, "Cheerleading is an extreme sport with high levels of risk. But if you love being active, are a team player, and are dedicated, then it's a great sport to be part of.
"It's a mixture of stunts, tumbling from gymnastics, strength and conditioning, and  flexibility, it's just a huge amalgam of  Olympic sports."
"You've got your Gymnastics, you've got your trampolining and dance.   We have been compared to rugby for the type of injuries we get; you expect your child to go home with a bruise or two after training."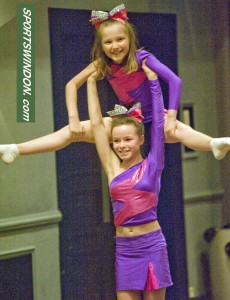 So why no PomPoms?
Millie explains, "We do not do Pom poms! Pom poms  are for visual effects for the dancers to enhance their dance routines, with the girls that are stunting and tumbling there is no way they could safely hold on to a pompom as well as somebody's foot."
But is it an all-female sport?
"We do have co-ed teams, but the elite teams especially are majority male. It's hard to break that stereotype. Where we are a brand new team and no one in the town has seen cheerleading before it's hard to break the stereotype
"Males lighten the atmosphere at training. When we are training hard they break the ice by  being a bit silly. We have a trainer, Bryn, who has been to the World Finals and trains us in our tumbling. Males bring both strength and trust to the team.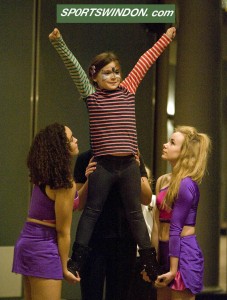 "Swindon lightnings senior girls compete at level three, but if cheerleading was in Rio then we would be going for Rio."
 So what is Cheerleading?
Cheerleading is a physical activity, sometimes a competitive sport, based on organized routines, usually ranging from one to three minutes, which contain the components of tumbling, dance, jumps, cheers and stunting to direct spectators of events to cheer on sports teams at games or to participate in competitions.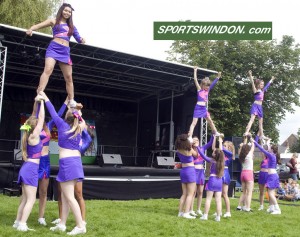 The athlete involved is called a cheerleader. Cheerleading originated in the United States, and remains a predominantly American activity, with an estimated 1.5 million participants in all-star cheerleading.
The growing presentation of cheerleading as a sport to a global audience was led by the 1997 start of broadcasts of cheerleading competition by ESPN International and the worldwide release of the 2000 film Bring It On.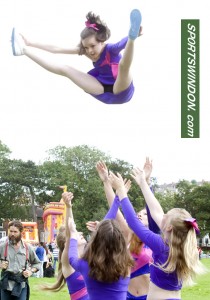 Due in part to this recent exposure, there are now an estimated 100,000 participants scattered around the rest of the world in countries including Australia, Canada, China, Colombia, Finland, France, Germany, Japan, the Netherlands, New Zealand and the United Kingdom.
And it's older than you think.
Organized cheerleading started as an all-male activity and as early as 1877, Princeton University had a "Princeton Cheer", documented in the February 22, 1877, March 12, 1880, and November 4, 1881, issues of the Daily Princetonian.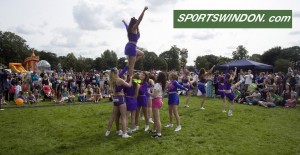 Women joined cheerleading prior to 1907 and began to dominate the sport during World War II, when few men were involved in organized sports. At that time, there were no collegiate sports for women but women were allowed to participate in cheering squads. Gymnastics, tumbling and megaphones were incorporated into popular cheers, and are still used.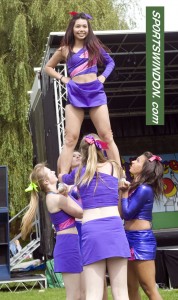 Estimates show that about 97% of modern cheerleading participants overall are female. At the collegiate level cheerleading is a co-ed sport with about 50% of participants being male.
Information from. Wikipedia http://en.wikipedia.org/wiki/Cheerleading
Gallery:
Gallery from Faringdon Park Fete  21st July 1012.: