Wragg Barn Ladies are champions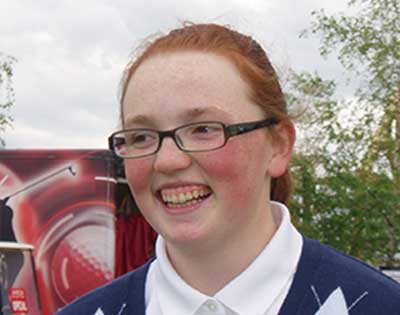 Wedding anniversary celebrations – caddying for our daughter.
When you have a young Golf star in the family even wedding anniversary's don't stop play.
So when Katie Warren, a 16 year old Golf Champion from Wragg Barn Golf Club turned out for a Ladies County Championship at Cumberwell Park, Mum Jo was caddy, despite it being her wedding anniversary.
What a fabulous result for Wragg Barn  ladies at the County Championships weekend was.
Katie Warren and Courtney Boyes, whose ages added together don't reach much above 30 years, qualified alongside Gill Loughrey, one of the more experienced ladies and also a former county champion, to scoop the team shield, with the best three combined scores from the same club.
By a cruel twist of fate Gill went out to Courtney in the second round, acknowledging that the youngster has great potential in the game; while Katie romped through, beating the defending champion Sara Gee in a flawless final round, to win the Championship salver on the 14th.
Katie also won the best scratch score, and the best under 21 scratch score.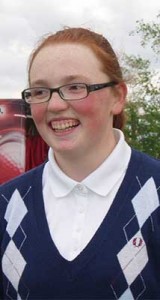 Katie Warren

To top it all the win came on Katie's parents' wedding anniversary, and Mum Jo couldn't have spent it a better way than caddying for her daughter.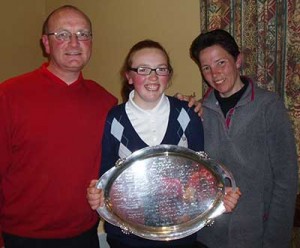 Family Dad Gary, Katie and Mum Jo Warren with the trophy.
Wragg Barn's Ladies Captain Juliet Platt summed up Kate's golfing potential "Katie is such a great asset to our club and we're very proud of her. Not only was she last year's junior champion she was also crowned ladies' champion 2011 as well. She's definitely a name to follow – and we'll all be watching her career and wishing her all the best as she follows her golfing dreams."
Afterwards, Katie said, "I just set out to enjoy myself and I did.  I can't believe that I have actually won it!  I am really pleased for my Mum (Jo) who caddied for me for all three days."   Katie's Dad, Gary, and her younger brother, Ashley, were also there to see her win too.
Pictures: Wragg Barn