Wildcats jet up M4 for final pre season.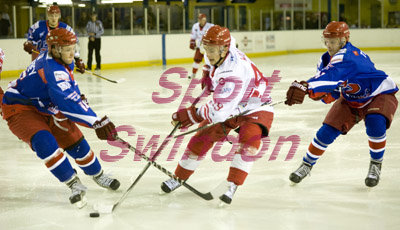 Cats Looking Forwards To Jets Challenge
The Wildcats travel along the M4 tomorrow evening (Wednesday) where we face our final pre-season Challenge match, against the Slough Jets, face off 7.30pm.
Both sides enjoyed an exciting 5-5 encounter at the Link Centre last Wednesday evening and during the week that followed, the Cats have suffered a narrow 5-6 defeat at the hands of the Telford Tigers while the Jets took on neighbours Bracknell in a two-legged Berkshire Cycles Cup and enjoyed back to back victories on Saturday [4-1] and Sunday [2-1], to win the competition 6-2 on aggregate.
Speaking ahead of the match, Wildcat forward Aaron Nell said: "The lads are looking forward to the game on Wednesday evening as the Jets are a decent side and will give us another great test.
"Losing against Telford was disappointing but we all know the games in preseason are more about getting match fit and getting used to playing alongside each-other more than the result and it was great to see Chris Jones, Jamie Hayes, Loris Taylor and Sam Bullas play so well.
"We've got a difficult opening weekend with Manchester and Sheffield who are both quality sides so it's important that we use the game on Wednesday to fully prepare.
"Slava [Koulikov – Jets Head Coach] has put a good side together at Slough and it will be another good game between the two sides."
There are no new injury worries for Wildcats Head Coach Ryan Aldridge to contend with ahead of the game, with netminder Thomas Murdy likely to remain absent as a precaution while Jets' Head Coach Slava Koulikov is also expected to be able to select from a full roster going in to the game.
Wildcats from: Netminders – Dean Skinns and Graeme Bird. Defence – Joe Baird, Paul Swindlehurst, Steve Whitfield, Jan Melichar and Shane Moore. Forwards – Chris Jones, Lee Richardson, Loris Taylor, Aaron Nell, Michal Kapicka, Sam Bullas, Jamie Hayes, Ryan Aldridge, Nicky Watt, Jonas Höög and Matias Perkkiö.
Jets from: Netminders – Danny Milton and Gregg Rockman. Defence – Sam Godfrey, Adam Greener, Mindaugas Kieras and Dan Scott. Forwards – Frantisek Bakrlik, Alex Barker, Josh Bruce, Aaron Connolly, Dan Davies, Slava Koulikov, Terry Miles, Darius Pliskauskas and Matt Towalski.
Copy from: http://www.swindonwildcats.com/index.php?option=com_content&view=article&id=915