Robins fall at Poole 49-41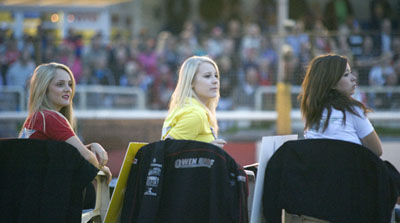 Poole V Swindon Speedway

SWINDON boss Alun Rossiter admitted to mixed emotions – and a degree of frustration – after a 49-41 defeat at Poole on Monday.
The result from a match raced in wet conditions at Wimborne Road, which forced a temporary stoppage midway through, puts the Pirates in pole position to secure top place in the Elite League table, and therefore gain choice of opponents in the play-off semi-finals.
Rossiter felt his side could and should have secured at least a point, especially as the scores were level at 36-36 with three races to go.
But the home side's big guns dominated the closing stages, with Krzysztof Kasprzak and Chris Holder regaining the lead for the Pirates with a 5-1 in Heat 13 after Hans Andersen and Nick Morris had drawn the Robins all-square two races earlier.
Swindon could have levelled again in Heat 14 only for recent Poole signing Piotr Pawlicki to pull off a stunning overtake on Jason Doyle and Dawid Lampart – and with Holder winning Heat 15 backed up by paid maximum man Darcy Ward, it meant the Robins left Dorset point-less.
They now trail Poole by five points, but will close the gap back to two if they can take maximum points against Lakeside at Blunsdon on Thursday – and top spot will then come down to how the sides fare in their respective trips to Birmingham next week.
Rossiter said: "It's hard to know whether to be disappointed or frustrated about not coming away with anything, but I'm certainly not disappointed with the efforts of the boys. Conditions were difficult for both teams.
"We really should have got a point but I can't blame the riders, they all gave it their best. We'll re-group for Thursday, the ball is out of our court now for finishing top but we'll be going out there to do the best we can."
POOLE 49: Darcy Ward 14+1, Chris Holder 13+1, Krzysztof Kasprzak 10, Piotr Pawlicki 5+1, Ricky Kling 3, Sam Masters 2+1, Linus Eklof 2.
SWINDON 41: Nick Morris 8+2, Hans Andersen 8+1, Peter Kildemand 8, Troy Batchelor 6, Dawid Lampart 5+4, Jason Doyle 4+2, Simon Stead 2.
ENDS
More: www.swindonrobins.co