Swindon Robins win at Kings Lynn 52 – 41

SWINDON sent out a massive statement of intent to the rest of the Elite League with a comprehensive 52-41 away win at King's Lynn on Wednesday.
Former Lynn man Troy Batchelor stormed to a 15-point maximum on his old home track and there were solid performances down the order as six of the seven Robins won at least one race.
The result does major damage to the home side's own play-off aspirations, and a measure of Swindon's dominance was the fact they had twelve of the fifteen race wins.
And the margin would have been even more emphatic but for Lynn recording a somewhat fortunate 8-1 in Heat 12 as  won for double-points after Robins' Peter Kildemand had suffered mechanical trouble.
Robins secured a series of early 4-2s to go six points up, only to see that lead slashed by a 5-1 from Daniel Nermark and Jason Doyle in Heat 7 – but Dawid Lampart and Simon Stead immediately hit back for the visitors in the next race.
Two further 4-2s put the gap up to ten with Nermark crashing out of the meeting in Heat 11 causing both Hans Andersen and Stead to come down in avoidance.
The 8-1 in Heat 12 increased the pressure but the Robins quickly regained control and took advantages in each of the last three races, Batchelor quickly clearing Niels-Kristian Iversen in Heat 13 and Lampart teaming up with Jason Doyle in the penultimate race.
Batchelor completed his maximum in the last to give Swindon four big away points and the chance to go back to the top of the table on Thursday.
Boss Alun Rossiter said: "Troy will take the plaudits and rightly so, because he was outstanding, but this was a fantastic all-round performance and it showed exactly what we're all about.
"'Frank' Lampart was great especially as he struggled a bit here last time, and I'm really pleased for Steady too. We asked him some questions recently and he's responded, and if he keeps on going like this we'll be more than happy.
"I also learnt something tonight, and that's that I have to be more ruthless. I hold my hands up because I should have put Lampart in Heat 12 (for Lasse Bjerre) when they got the 8-1. We thought we'd sorted Kildemand's bike, but it was a problem with the plug that caused him to stop.
"I was trying to keep everyone happy but at this time of year everyone has to raise their game including myself. I was ruthless myself in 2010 when I won the league (with Coventry) and it could have cost us a point tonight. I'll learn from that, but overall it's a great night for us."
KING'S LYNN 41: Maciej Janowski 11+1, Kevin Wolbert 9+2, Niels Kristian Iversen 9, Daniel Nermark 5, Mads Korneliussen 4, Ulrich Ostergaard 2+1, Mateusz Szczepaniak 1+1.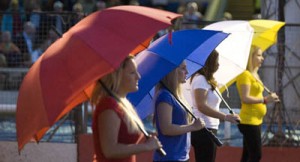 SWINDON 52: Troy Batchelor 15, Dawid Lampart 9+1, Hans Andersen 8, Simon Stead 6+1, Jason Doyle 6+1, Peter Kildemand 6, Lasse Bjerre 2.
Copy: www.swindonrobins.co