Swindon Robins v Kings Lynn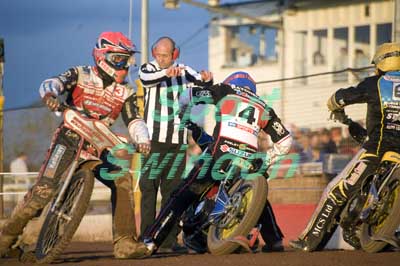 Copy: www.swindonrobins.co
SWINDON were held to a 45-45 draw by an impressive King's Lynn side in a thrilling Abbey Stadium encounter on Thursday.
The Stars, with former Robins Maciej Janowski and Mads Korneliussen both starring on their old track, gave a determined display and Swindon were in the end relieved to come away with a point.
Robins suffered a host of problems, including a fall for Dawid Lampart in his second ride, and they found themselves 18-24 down after Heat 7 with Daniel Nermark winning his first two outings for the visitors.
They still led by four with four heats to go, but Lampart crucially defeated Janowski in Heat 12 as the Robins halved the deficit, and then a 5-1 from Lampart and Troy Batchelor in Heat 14 put Swindon ahead for the first time in eleven races.
But the in-form Niels-Kristian Iversen dominated the decider for the Stars, and with Batchelor safely in second place Janowski snatched third from skipper Hans Andersen to level the scores and give the away side two match points.
Robins boss Alun Rossiter said: "We had a lot of problems with bikes and so on tonight, and in the end I'm quite pleased to get a draw because at one stage I couldn't see us getting that.
"Credit to King's Lynn, we knew it was going to be ultra-tough because of the way Iversen is going, and with Mads and Magic back here, so chuck in Daniel Nermark going well and they gave us problems.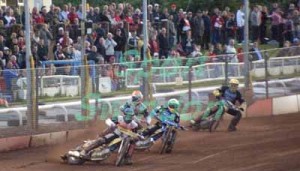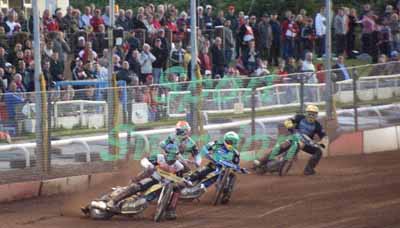 "We know what we've got to work on, but at least we didn't lose the match and we'll now move on and see what we can do in a couple of away matches."
SWINDON 45: Dawid Lampart 9+2, Hans Andersen 8+1, Troy Batchelor 8, Peter Kildemand 7+1, Simon Stead 7, Adam Roynon 5, Nick Morris 1.
KING'S LYNN 45: Niels-Kristian Iversen 12, Maciej Janowski 11, Mads Korneliussen 8+2, Daniel Nermark 8, Matuesz Szczepaniak 4, Cory Gathercole 2+1, Kevin Wolbert 0.
ROBINS head to Coventry on Friday (8pm) with two of their squad members being handed an opportunity to impress.
With Nick Morris and Jason Doyle both unavailable due to Premier League commitments, Lasse Bjerre and recent Premier League Fours winner Sebastian Alden step into the side at Brandon.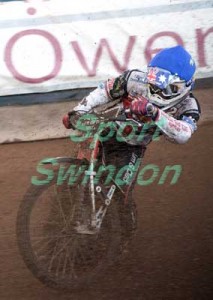 Swindon have a host of former Coventry riders with four of their top five having represented the Bees at one stage of their careers, and boss Alun Rossiter was in charge of the Midlands club in the last two seasons.
COVENTRY: Chris Harris, Aaron Summers, Edward Kennett, Kenni Larsen, Scott Nicholls, Josef Franc, Mathias Thornblom.
SWINDON: Hans Andersen, Lasse Bjerre, Simon Stead, Troy Batchelor, Peter Kildemand, Sebastian Alden, Dawid Lampart.