Robins win 48-42 at Coventry.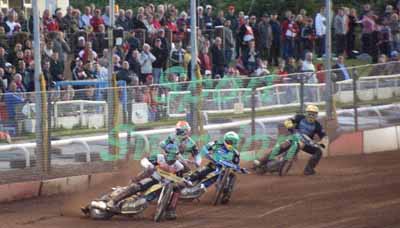 Copy from:  www.swindonrobins.co
SWINDON responded well to their home setback against King's Lynn win a fine 48-42 away win at Coventry on Friday.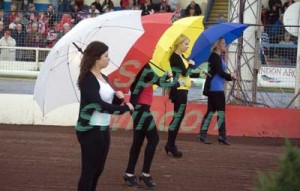 The Robins had been held to a draw on the their own shale on the previous evening but they led for much of the meeting at Brandon to add three more points to their Elite League total as a play-off place moves closer.
It was a meeting they dominated for long spells, but a late Coventry fight-back inspired by debut reserve Josef Franc gave Alun Rossiter's side some anxious moments.
With skipper Hans Andersen controlling the early stages and their reserves taking a 5-1 in Heat 2, Robins raced into a 17-13 lead although they had a stroke of fortune in the next race when Chris Harris slowed just as he was set for a 5-1 with Aaron Summers.
Robins took advantage of that to extend their advantage over the next three heats, with a fine cut-back from Peter Kildemand in Heat 9 against Kenni Larsen opening the lead to eight points.
Coventry, though, hit back with a 4-2 in Heat 10 and then a shock 5-1 in the next race when Franc made the gate and Scott Nicholls came from last to second and then repelled every attack from Andersen for the remaining three laps.
Franc was a thorn in Swindon's side again in Heat 12 although Simon Stead and Sebastian Alden managed to peg Edward Kennett at the back, but a Coventry 4-2 in Heat 13 levelled the scores, Andersen importantly keeping Harris at bay for second place.
Troy Batchelor then conjured a lightning start in Heat 14 and Dawid Lampart added a crucial third place to take Robins into a last-heat decider two points ahead.
And facing the Nicholls/Harris combination the pressure was lifted even before the tapes rose as Harris seized his engine, with Batchelor and Andersen racing clear to finish the night with a 5-1.
Rossiter said: "It was closer than it should have been. We should have put it to bed earlier but a couple of riders made some silly mistakes which made it hard for ourselves.
"But it was a good all-round display. It didn't help when Franc started going well, but I was always confident we could pull it out of the bag. We do have a good record here, and I always thought it would depend on how our reserves went, and they rode very well.
"I thought we would do better than them at reserve, so a lot for them depended on Larsen and Kennett. They didn't have the best of nights compared to what they can do here, and we capitalised on that."
COVENTRY 42: Scott Nicholls 12, Aaron Summers 8+1, Josef Franc 6+1, Chris Harris 6, Kenni Larsen 5, Edward Kennett 5, Mathias Thornblom 0.
SWINDON 48: Hans Andersen 11+1, Troy Batchelor 9, Dawid Lampart 7+1, Sebastian Alden 6+2, Peter Kildemand 6+1, Simon Stead 6+1, Lasse Bjerre 3.