Sports Forum Grants handed out.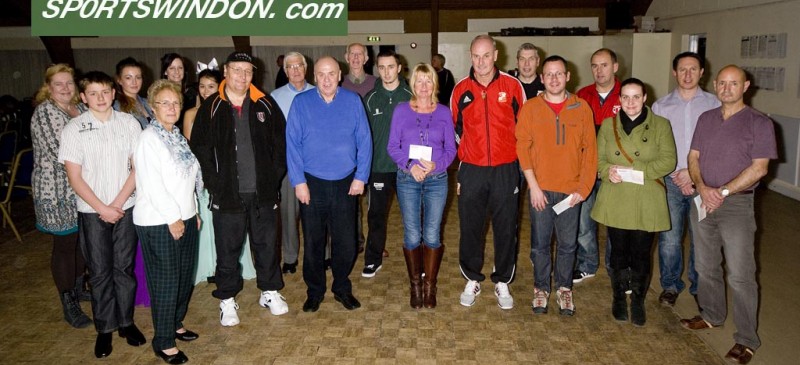 Swindon Sports Forum held its AGM at Supermarine Social Club and gave out 22 grants.
So where does the money for the grants come from?
The Forums funding for Grants comes from Swindon Town Football Club gate money. It also pays for hall hire and refreshments for meetings.  The club provide not only money for our grants but also to run initiatives for Football in the Community.
Funding is also obtained from Wiltshire and Swindon Sports Partnership (WASP). They are based in Devizes and work closely with Swindon Sports Forum on sport programmes mainly commissioned by Sport England.
Clive Maguire who is a leading light in running the Football In the Community initiatives presented the grants. Along with his football commitments Clive does a huge amount of work across all sports with a great number of disadvantaged children
 Who received The Sports Forum Grants?
The Sports Forum made 22 grant awards this year and there are some awaiting confirmation. Here is a list of the award winners.
Sanford Link Table Tennis Club got £263 to ensure a first aider present at all club sessions this is a step towards clubmark. They also received £500 to help with travel & kit costs.
Highworth Sporting Hub received an award of £750 towards promotion of the Hub.
Swindon Phoenix Triathlon's £375 is made up of £263 from Sports Forum and £112 from WASP.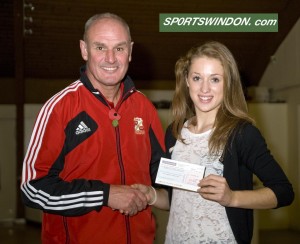 Isabella Larkin from Swindon Ice Figure Skating Club has received an award of £500 towards travel & training. This is for representing Great Britain in an international tournament.
Park Netball Club took away a cheque for £850 contribution to coaching and training costs, and Croft Netball Club were handed £300 towards new kit & bibs for an extra team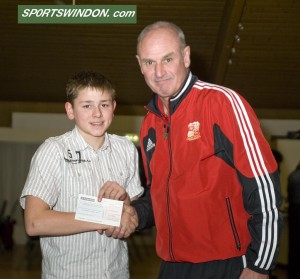 Sean Purvis from Swindon Tigersharks ASC received £500. Sean has reached South West region standards in a number of disciplines and it costs several thousand of pounds to compete at that level.
Highworth Town Junior Football Club need more coaches so were given £375 for training up these coaches so they can run a football team for disabled youngsters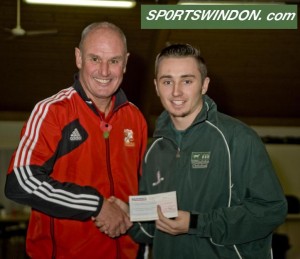 Swindon Cricket Club's Jon Sore received a grant to fund playing in Swindon's first X1, and going with the county under 17's, on a tour to Dubai with Wiltshire Cricket Academy
Stratton Higashi Karate Club collected a cheque for £1,200 towards buying floor mats for their facility. The total cost for the mats is about £2,500.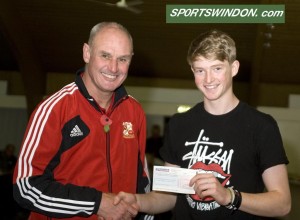 Will Harding from the Flames, Swindon Skater Hockey Club received a cheque for £500. The 15 years old plays in the Great Britain Under 18 team, and the award is to help fund his participation for GB in the European Championships in Switzerland.
Tilly Gray received £500. Tilly who was originally with Swindon Dolphins and is now swimming with Loughborough University and a Great Britain squad. She is planning on representing England in the Commonwealth games & GB at the Rio Olympics
Westlecot Bowls Club get £550 towards 7 sets of bowls (2 sizes) for U -13 and 13-16 year olds to participate in the sport and Wanborough Bowls Club received £300 again for sets of bowls for juniors to get involved
The Mellor brothers Michael and Kieran of the Oasis Squash Club were handed £500 shared between them. Michael hopes to build on a very strong last 12 months which saw him captain the Wilts County Under 11 team helping Wiltshire win the '3 Counties Competition' for the first time by beating Oxfordshire and Berkshire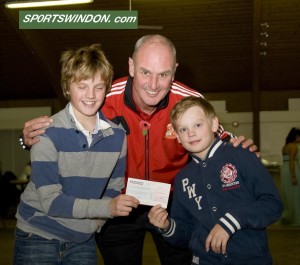 He was also selected for the England South West Regional Squash Team and competed at the National Championships in Manchester finishing 28th overall. He closed the season with a Top 20 National Ranking.
His brother, Kieran, has started this season well by recently becoming the County U15 Champion which is a direct result of the hard work spent during the summer months. Last years grant helped secure a place at a Summer Squash Academy at Exeter University.
Swindon Manor Indoor Bowls Club took away £1,200 towards costs for setting up in a new venue,and another Bowles Club, this time Stratton Churchway Bowls Club were handed a cheque for £1,200 towards refurbishment of their facilities. It's a two year project costing £58,000.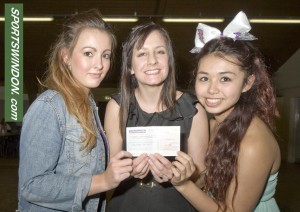 Millie Paul of The Lightning Cheerleaders was handed a total of £700 made up of £412 from SSF, £288 from WASP towards training up more qualified coaches.
The Tigersharks ASC collected £1,200 for the training of coaches It's made up of £800 from us now & £400 coming from WASP.
Highworth Tennis Club also need more coaches and a grant of £246.25 form the Sports Forum and £200 from WASP should help.
Chris Rose from Swindon Skater Hockey Club had a cheque for £1065 towards new equipment & coaching costs and North Wilts Orienteering got a £350 contribution to erection of orienteering course in Lydiard Park.