Speedway: Admission price offer due to rain affected fixture list.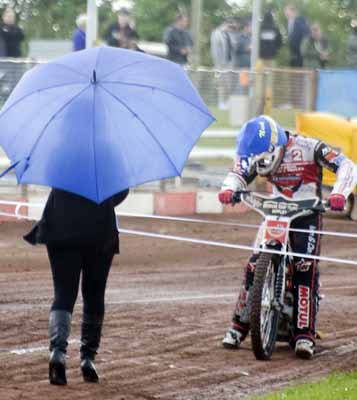 SWINDON are offering fans reduced admission for the second time this season as they bid to catch up on fixtures in August.
After the success of the slashed prices promotion for the televised fixture against Coventry earlier in the season Robins bosses have again taken the bold step to do it all again!
"Decimated the fixture list" Patchett.
At the forthcoming televised fixture against Poole on Monday, August 6, supporters purchasing a matchday programme will find a voucher enclosed which, when presented with their admission ticket from the Poole fixture, will entitle them to discounted admission for the Elite League fixture against Birmingham the following Thursday, August 9.
Co-Promoter Gary Patchett said: 'The appalling weather has decimated the fixture list and through no fault of our own we find ourselves having to run twice during the week in question. Firstly against Poole in the televised fixture on Monday and again when we entertain the Brummies the following Thursday.
"Whilst we have no home fixture the previous week we acknowledge that asking our supporters to dip into their pockets twice in four days is a lot to ask. We trust that this promotion, coupled with the second half meeting against the Hornets will be well received by our supporters."