Robins make it a double draw at Kings Lynn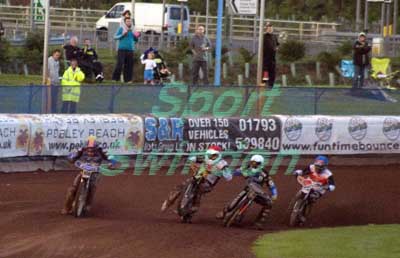 What chance? Two 45-45 results in a week as SWINDON ROBINS picked up two more valuable away points from a thrilling 45-45 draw at King's Lynn on Monday after getting the same result at the Abbey on Thursday night.
Recent signing Lasse Bjerre loved his return to the Norfolk Arena, where he rode for the Stars last season, top scoring for the Robins with 11.
Boss Alun Rossiter was fuming with referee Christina Turnbull who controversially excluded both Hans Andersen and Dawid Lampart in different races – and in Lampart's case in particular Sky pundits Chris Louis and Kelvin Tatum slammed the decision.
Said Rossiter: "I'm not going to talk about the referee because I would rather focus on the racing itself.
"There is no point me wasting my breath on the refereeing decisions, just to say I am very proud of my riders and the way they kept pushing hard in a very tough meeting."
Peter Kildemand was the last heat hero for the Robins with a stunning win over Stars No.1 Niels Kristian Iversen and with Troy Batchelor third it was enough for a share of the spoils.
KING'S LYNN 45: Mateusz Szczepaniak 14+2, Niels-Kristian Iversen 13, Maciej Janowski 8, Kevin Wolbert 4+1, Ulrich Ostergaard 4+1, Mads Korneliussen 2+1, Daniel Nermark 0.

SWINDON 45: Lasse Bjerre 11, Peter Kildemand 9+1, Troy Batchelor 9, Jason Doyle 6+2, Simon Stead 5+2, Hans Andersen 4, Dawid Lampart 1+1.