Robins fly to sink the Pirates at Poole and after 45 years become champions.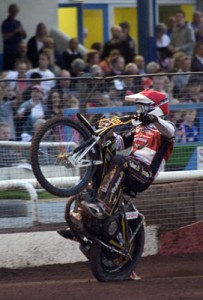 SWINDON Robins claimed their first league title in 45 years as they sealed a 95-89 aggregate victory over Poole on a memorable evening at Wimborne Road.
Carrying a seven point lead from the first leg of the Elite League Grand Final at the Abbey a week ago, Swindon moved ten up overall after only two races to take control.
The sensational Peter Kildemand and youngster Nick Morris team-rode home in style for a 5-1 in Heat 10 which extended their aggregate lead to 14 with only five races remaining, before they confirmed victory in the twelfth race.
In the end they were beaten 45-44 on the night, but that did not matter as they left with the trophy in their hands.
Danish duo Kildemand and Hans Andersen starred all meeting long to combine for five race wins out of the first 11 heats, whilst Simon Stead also stepped up to the plate with 8 valuable points.
Troy Batchelor, Nick Morris and Sebastian Alden all scored well to bolster the lower order despite the injury absence of Jason Doyle, and that strength in depth gave them the edge over the top-heavy Pirates who were without No.1 Darcy Ward for the second leg.
The win caps off a superb turn-around for Swindon having finished bottom of the Elite League table just twelve months earlier, whilst it brings to an end a sublime season-long rivalry between the two sides.
Team boss Alun Rossiter said:"What a night. We've done it at last and Swindon have finally won something! I am so proud of these riders.
"This is going to be super for the town of Swindon. For the size of Swindon, the lack of success it has had over the years means for us to win it after two years struggling towards the bottom is really special."
POOLE 45: Krzysztof Kasprzak 16, Chris Holder 12+1, Chris Harris 8+1, Linus Eklof 5, Ricky Kling 3+2, Ludvig Lindgren 1, Piotr Pawlicki R/R.
SWINDON 44: Peter Kildemand 11, Hans Andersen 8, Simon Stead 8, Troy Batchelor 7, Sebastian Alden 5+2, Nick Morris 5+1, Dawid Lampart 0.
More: www.swindonrobins.co