Heavyweight earthquake to hit M.E.C.A.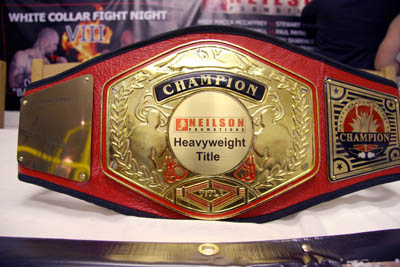 Fighters from Neilson Promotions, Ringside Gym are putting in the hard work early in preparation for the up and coming Fight Night IX at the Swindon MECA on October 13th.
Top of the bill is a fight for Swindon's first and original White Collar Heavyweight Championship belt.
Defending Champion Dave 'Bam Bam' Gregory faces close friend in former MMA cage fighters turned boxer Rich Loveday
With both fighters each topping the scales at over 18 stone, residents could well think Swindon is experiencing an earthquake!
Speaking ahead of the bout Rich Loveday spoke of his commitment to training this time around. "'Bam Bam' is a friend of mine and good bloke, I respect him but he's not a great boxer in my eyes, I've seen him get stopped in the past and I know that with all the extra road work and boxing skills training that I've been doing I can knock him out, I possess that punching power, he won't last"
Dave Bam Bam Gregory however is the current Heavyweight Title holder after beating a resilient bruiser Dennis The Menace Jones for the crown earlier in the year and is hell bent on retaining what he refers to as "his Title", saying "I'm fitter, stronger, quicker and have had two fights already this year, he's not taking my belt!"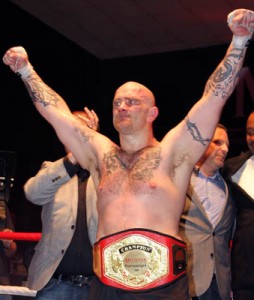 Another title fight on the line is for the vacant Light-Heavyweight Title between former professional boxer, English kick-boxing champion and local crowd favourite Andy 'Macca' McCaffrey and Chippenham's own Spartan Warrior Andy Belcher, who brings an impressive amateur pedigree to the ring.
With pride at stake for all the fighters taking part in what promises to be their best event yet, the
Boxers have been put through their paces by head coach and former heavyweight professional Eddie Neilson who commented that "it's important for the lads to get the hard work done early, you really can't train enough in this game, you've got a few rounds to impress the judges so you need to be as fit as you can possibly be".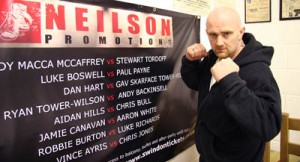 Tickets are available now from any of the fighters, Aligra on Commercial Road and or via
www.neilsonpromotions.co.uk/tickets.
Copy and Pictures: Neilson Promotions.