Cricket: Swindon v Marshfiels U15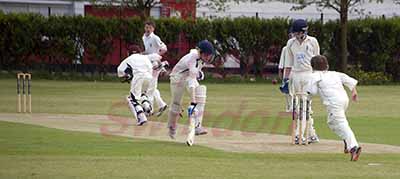 SWINDON COUNTY GROUND
MATCH REPORT FROM ROB HARTLEY:
http://www.swindoncricketclub.com/
Swindon Under 15's lost by 6 wickets to Marshfield in a close encounter at the County Ground.
Batting first, Dhruv Satish (39) and Matty Cozens (36) helped Swindon to a competitive total of 193-6 from their 45 overs with Rory Smith (3-22) being the pick of the Marshfield bowlers.
In reply, Connor Cleary (2-26) removed both openers early to give Swindon real hope of defending their score but a stand of 94 between William Pascall (74 not out) and Jeremy Bond (46) turned the match in Marshfield's favour and they reached their target with 15 balls to spare.