Wildcats snuff out the Flames.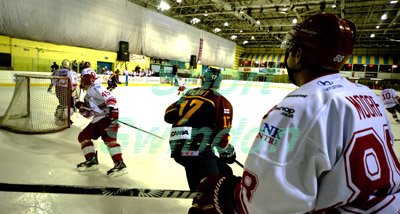 The Swindon Wildcats gave an outstanding display last Saturday evening, as they snuffed out the the visiting high flying Guildford Flames in impressive style with a 6-2 win.

The night's fixture opened up with end to end action and although sharing chances apiece, Swindon soon opened the scoring on home ice. After being gifted a powerplay opportunity, it was Jonas Hoog who netted first as a 'tic-tac' move left Matias Perkkio [pictured] passing across net to the waiting Swede.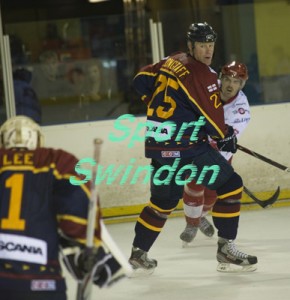 From here the Wildcats took real control of the game and after a move up the ice left Aaron Nell with a defenseman to beat, Swindon soon made it two with a toe drag effort that left netminder Lee unaware that puck had passed him by.
A fairly even second period made for an exciting twenty minutes for both sets of fans, however it was the 'Cats who would net yet again.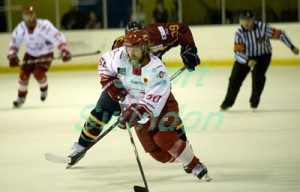 An impressive deke from import Perkkio left the Fin faking past a blocking defenseman and with a simple wrist shot, a third was up on the board for the home side. Within minutes previous scorer Nell then made it four after being found in space by team mate Hoog and finishing the attack with a rapid slapshot.
Despite being dealt 4-0 deficit Guildford were still found with fight in them and with a nice link up around the Wildcat net, a goal was soon found as Flames' Curtis Huppe slid home the puck across net.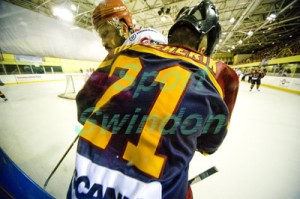 Finding a response almost instantly, Swindon then netted a fifth goal of the evening after a pressuring move left a scramble in the Guildford zone. Several shots soon left netminder Lee out of position and with a shot on goal, Swindon's Hoog then found his second of the evening and fifth for his team.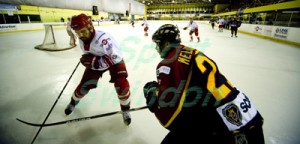 The third period saw a much more aggressive Guildford side and one that would increase the pressure as the clock counted down. With this in mind the Flames then found their second of the evening, as a the away side's David Savage saw his shot from the point beat a screened Dean Skinns in net.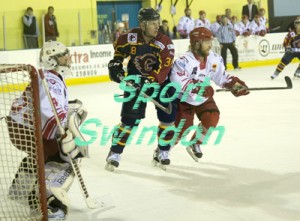 With only ten minutes remaining in the game it was clear time was against the Flames as the push for goal became that ever more important. Although the offense continued, the Wildcats' Perkkio then went about netting on a breakaway opportunity with a nicely placed shot and with it, closing out any chance of a comeback by the Flames.
Guildford could do very little as the final buzzer sounded and Swindon were awarded a superb win against what is always a tough opposition.
Four points in the space of the four days now see's the 'Cats look ahead Saturday with real momentum as they face off against the visiting Sheffield Steeldogs.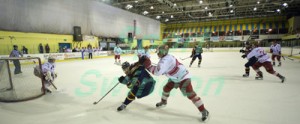 Final Score: Swindon Wildcats 6 – 2 Guildford Flames
Man of the Match: SWI – Hoog / GUI – Dixon
Copy: Scott Gummerson – Press Officer from Official Wildcats site:
http://www.swindonwildcats.com/index.php?option=com_content&view=article&id=955