Town go through in Capital One Cup 3-0 to face Stoke.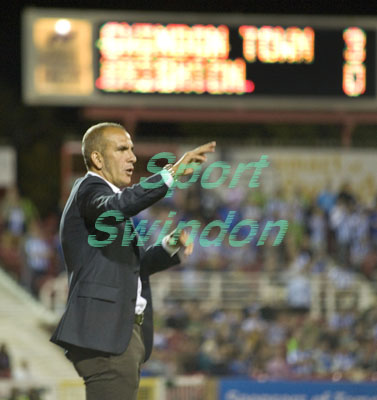 Swindon Town opened their 2012-13 account as they finished last season with an emphatic win against Championship Brighton at the County Ground.
The first half was eminently forgettable, but 3 goals in the second half, the first from Paul Benson and two from ex-Brighton player Alan Navarro, brought the game and the 5737 crowd to life.
One of Swindon's long distance season ticket fans proposed to his girlfriend at halftime on the pitch.
Craig Kendall proposed to girlfriend Kelly Hughes (from Grimsby) on the County Ground pitch during half time. Craig is a Swindon Town season ticket holder and will travel over 10,000 miles just for the home games this season.

It is Kelly's first time to a football match and with Swindon winning 3-0 Craig will probably bring her along as a lucky mascot.
Swindon now face Premier League Stoke City away. The match will be played in the final week of August with a date for the tie still to be confirmed.
Sportswindon is the sport picture site of Calyx Picture Agency.
STFC gallery: http://www.swindontownfc.co.uk/