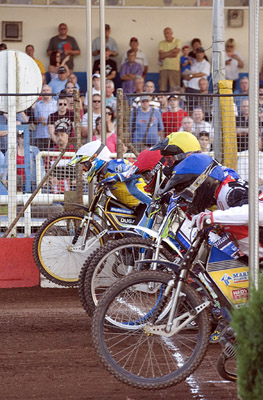 SWINDON remained on top of the Elite League with a late comeback to snatch a 48-45 away win at Coventry.
Troy Batchelor and Hans Andersen were the Robins' heroes with a Heat 15 5-1 to ensure they took the lead for the only time in the meeting at just the right time.
It had been a night fraught with difficulties for the most part as Robins found themselves on the back foot with the concession of three 5-1s in four races between Heats 3 and 6.
Not only that, Peter Kildemand had twice suffered mechanical problems and Andersen had incurred major damage to his own bike in a first-bend crash in Heat 5.
Then Nick Morris came to grief heavily in Heat 8 when he lost his steel shoe whilst chasing Adam Roynon, and Swindon had a mountain to climb.
But during the second half of the meeting they reeled off race win after race win, and but for some further problems they would have been in front prior to Heat 15 as the Coventry heat-leaders were unable to find the winning formula on their own circuit.
A super-impressive Troy Batchelor won Heat 10 on a tactical ride to halve the ten-point gap, and Simon Stead's win in Heat 12 after a tough night was also important as he held Edward Kennett at bay after Dawid Lampart had fallen.
When Andersen dropped points for the first time in Heat 13, Kildemand was there for his second win as the gap was cut to one point, although Swindon still went into the last race behind as Lampart suffered a horrific-looking crash in Heat 14 before thankfully walking away.
And the big guns duly fired in Heat 15 with Batchelor making a lightning start from gate 2 and Andersen getting the job done from the outside, holding Scott Nicholls at bay throughout the race with Chris Harris pegged at the back.
Manager Alun Rossiter said: "I would have been more than happy with a point, because everything that could have gone wrong did go wrong. Hans wrecked his best bike, Peter blew his best bike, Nick was in a good position when he fell and so I was just looking for a way of pulling it back.
"Everyone says you have to do the tac. ride straight away but I think I called it right and we got a 7-2 out of it, so credit to Troy and Simon, but then again Lampart crashed twice when we were in good positions so it made life hard for us.
"Full credit to the mechanics, they were fantastic tonight with how they rallied around, and in the end Troy and Hans were fantastic and Peter showed his class in coming back from two lasts. All in all, a great win when a point would have been good with the problems we had."
COVENTRY 45: Adam Roynon 8, Chris Harris 7+2, Scott Nicholls 7+1, Kenni Larsen 6+2, Michal Szczepaniak 6+2, Edward Kennett 6+1, Aaron Summers 5+2.
SWINDON 48: Troy Batchelor 16, Hans Andersen 12+1, Dawid Lampart 7, Peter Kildemand 6, Simon Stead 4, Nick Morris 2+1, Josh Grajczonek 1.
Copy from: www.swindonrobins.co