Stars gather for Heart Foundation football match.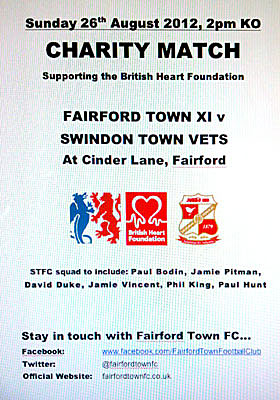 Support a sporting evening with former Arsenal and England midfielder Ray Parlour on Thursday 23rd August that is being held in the Legends Lounge at Swindon Town FC and  there is a charity match taking place this Sunday at Fairford Town FC. Both to raise funds for the British Heart Foundation.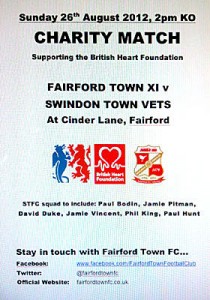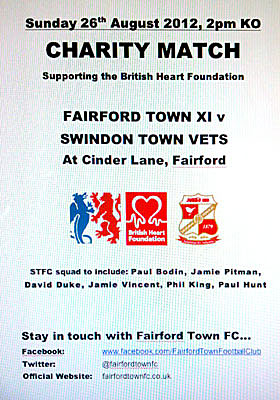 The events are in memory of a former Fairford first teamer and STFC Centre of Excellence coach, John Hathway, who passed away from a heart attack a few years back and the charity is now annually supported via Fairford Town FC.
Sunday 26th August 2012, 2pm KO
FAIRFORD TOWN XI
                                                                V
SWINDON TOWN VETS
At Cinder Lane, Fairford
STFC squad to include: Paul Bodin, Jamie Pitman,
David Duke, Jamie Vincent, Phil King, Paul Hunt
  www.facebook.com/FairfordTownFootballClub
  Twitter                       @fairfordtownfc
Official Website:        fairfordtownfc.co.uk