Sports shorts – Speedway update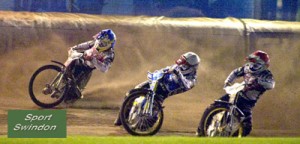 Nick Morris and Hans Andersen added to Kilby list.
ELITE League title winners Hans Andersen and Nick Morris have been added to Swindon's glittering opening meeting of the season.
The Bob Kilby Memorial Trophy on Thursday, March 14, is set to pull in a bumper crowd.
And the Excalibur Communications Robins, who will launch the defence of their title in April, will have plenty of home representation.
Youngster Morris is excited by the prospect of rubbing shoulders with some of the best riders in the world at the Abbey.
He said: "It's a great field with some Grand Prix riders in it as well as some other big names, so it will be a good test for me. A lot of the riders who won the league last year will be there, so it will be good to be able to celebrate at Swindon with the fans."
Morris joins a line-up already including three-time world champion Nicki Pedersen, title winning Robins Andersen, Jason Doyle and Troy Batchelor, former Swindon riders Mads Korneliussen and Grzegorz Zengota, and Eastbourne's Bjarne Pedersen who is the reigning champion.