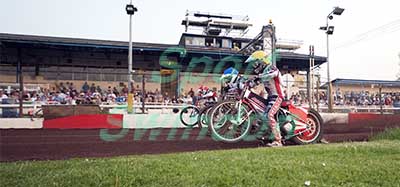 No England football – Speedway is on.
SWINDON Speedway have confirmed their Elite League clash with Wolverhampton will go ahead as planned this Thursday (7.30).
Robins are desperate to get back into action at the Abbey but the meeting would have been off had England reached the semi-finals of Euro 2012 on the same night.
But last night's penalty shootout heartache for Roy Hodgson's side at the hands of Italy means the bikes will roar as planned.
Robins co-boss Gary Patchett said: "It will be good to get back into action at home, it's been a long time.
"The weather has been a nightmare for the sport in general but now is the time to really get our season going and make a sustained push for the play-offs with the backing of our brilliant fans.
"Whilst I was disappointed to see England go out, I must admit I'm relishing the prospect of a home meeting on Thursday and I'm sure everyone else is."
From Swindon Speedway:
More: http://www.swindonrobins.co