Officially it's ladies in Swindon.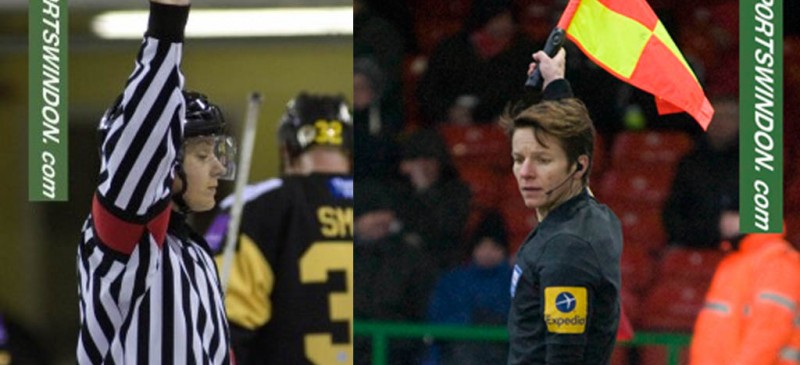 Swindon seems to be attracting top lady officials for our sporting events this week.
You may have seen in the Wildcats report from last Saturday that the London based official and two times Olympic games  ref Joy Tottman officiated at the Link last weekend in the macho sport of Ice Hockey.
Joy's worked at the Olympics in 2006 and 2010 and has officiated at international level since.
Joy follows in her fathers footsteps as an Ice Hockey referee. She is originally from Essex and has an Oxford degree. She started refereeing at the tender age of 11 and has never looked back.
So, at yesterday's (Saturday 19th Jan) Swindon Town v Shrewsbury match, we hosted Slovakian referee Alexandra Ihringova as a Ref's assistant at the County Ground.
Who is Alexandra Ihringová?
Four years ago Alexandra Ihringová took charge of the UEFA Women's Euro 2005, as Germany defeated Norway at Ewood Park in England and liked it so much that she moved here.
After switching her allegiance to England, Ihringová refereed the United States' victory over North Korea at Estadio Bicentenario de La Florida, in the final of the 2008 FIFA U-20 Women's World Cup.
Ihringova is following in her uncle's footsteps as a ref. She turned to refereeing after playing in her home country. As a player, Ihringová was a national champion three times from 1991 to 1994 with her club Filozof Bratislava.
Information from BBC and Wikipedia.