Nell hattrick extinguishes the Flames 5-4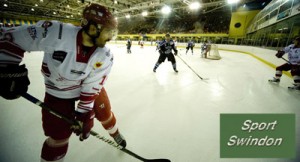 In a midweek fixture, the Swindon Wildcats saw their season take a good step forwards after the side overcame the Guildford Flames on away ice. Some tough results as of late made for further motivation for the 'Cats who arrived at The Spectrum in the hunt for two important points.
Six minutes into the night's game it was Swindon  who would land the first blow, when forward Aaron Nell rifled a rapid wristshot past netminder Lee.
The Wildcats would then net either side of the period break. Firstly with Nell collecting his second of the night with a tap in effort, before fellow forward Lee Richardson would then score a vital third on a one on one opportunity.
However at the half way stage of the game Guildford  eventually found a reply through Jez Lundin and a five on three opporunity to the Flames.
Moments before the period was out and Swindon could land the lasting blow of the first fourty minutes, with 'Cat import Mattias Perkkio finishing on close range situation in the Guildford zone.
At 4-1 the game looked very much in the hands of Swindon, however with the Flames striking at the fifty minute mark through Andy Hemmings, it made for an interesting final ten minutes. Restoring the three goal lead just five minutes later, previous scorer Nell collected his hat trick picking up on a loose puck that left the British forward with time and space to place it with precision.
Despite sitting at 5-2 the game soon took to a dramatic end as a momentary lapse saw the home side score not once but twice with just minutes left. Both Rick Plant and Jozef Kohut would claim their goals respectively and lead their side pulling their netminder in the hunt for a tying score.
Through the  tense finish to the night's action, Swindon hung on thanks to some sensational performances, and with it, earn themselves a much needed two point victory.
Swindon now look ahead to Saturday evening when they welcome the MK Lightning to the Link Centre in a 5:45 faceoff game.
Final Score: Guildford Flames 4 – 5 Swindon Wildcats
Man of the Match: GUI – Plant / SWI – Skinns
Scott Gummerson – Press Officer
See more: http://www.swindonwildcats.com/index.php?option=com_content&view=article&id=989