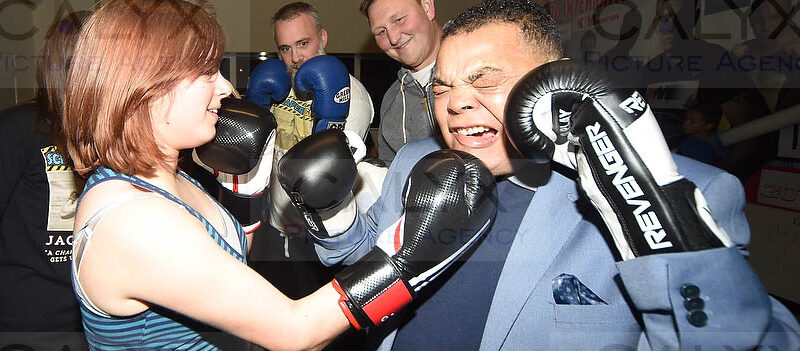 Scrappers celebrates its 5th birthday.
Scrappers Boxing Gym & Community Fitness Centre celebrated its 5 th birthday on 1 November with a boxing party at the Gym in Hillmead.
The project is managed by the 'Swindon Children's Scrapstore' a local registered charity, community
resource centre and social enterprise. Scrappers Gym is Swindon's only charity gym and is accessible to all members of the public from age 5 and above.
Scrappers Gym Patron, Swindon's Boxing Legend 'Ricky Porter' will be attending the celebration event, having supported the project from the beginning, 'Ricky was one of the few boxers to rank in the world's
top 10 despite never having won a national title, once placed seventh in the WBC welterweight list.
So who are Scrappers Gym.
The 'Swindon Children's Scrapstore' secured a grant of £9,609 from the Big Lottery 'Awards for All'
programme to set up and purchase equipment for 'Scrappers Boxing Gym and Community Fitness Centre'.
With two former boxers joining forces with Swindon Children's Scrapstore they help set up the project.
Swindon's first ABA Champion Paul Rogers and two-times British Kick Boxing Champion, Andy Brown
volunteered their time to help run the project and to motivate and inspire young people. Within weeks of the project starting Paul and Andy recruited another experienced boxing trainer Steve Cooney ex Swindon Amateur Boxer with 15 year's boxing experience previously spent coaching young people at the Penhill British Legion Boxing Club.
The gym first opened its doors to the local community on the 1st November 2011 at the Scrapstore
premises in the old Farepack Hampers Site, Bridgemead Business Centre, West Swindon to provide a low cost alternative to expensive commercial fitness centres, and allow access to fitness equipment for all, enabling more people especially young people and those on low incomes to increase their health and fitness.
The Swindon Children's Scrapstore and the Scrappers Gym project were forced to relocate premises in
February 2013 when the building they occupied was marked for demolition.
The Swindon Children's Scrapstore and all the projects within the Scrapstore were initially relocated to Elgin Industrial Estate but unfortunately the new building was not large enough to accommodate the gym. Thankfully the manager of the 24HR Gym in West Swindon, Vern Montgomery kindly allowed us to use one of his rooms free of charge. We got the gym back up and running but the room was too small to meet the demand of our users. With Vern's help we negotiated a lease on a larger building on the same site as the 24HR Gym, and we have been located on the Ground Floor of Sensor House, Langley Road ever since.
We are very fortunate to have the support of Mandy Larcombe and the generosity of the building's owner Dr Sena Yaddehige.
The Swindon Children's Scrapstore manager Olivia McCann secured a grant of £21,076 for the Scrappers Gym project in 2013, from the 'People's Health Trust' enabling the gym to provide a range of boxing and fitness related activities in a local setting for disadvantaged young people aged 12-25 and low income communities in the Toothill and Westlea areas of Swindon.
"Scrappers Gym provides an affordable, safe, supportive and welcoming environment, reducing isolation and increasing participation" Olivier commented continuing, "This is a fantastic project and provides opportunities for local people who cannot afford to go to commercial gyms, to get fit and  they learn from professional qualified and experienced trainers."
We held a Re-launch event on the 7 th September 2013, to give local people the opportunity to come along and visit the new and improved Scrappers Gym and to meet the volunteers that dedicate their time to work with people in the community to help them improve their health and fitness.
Over the years we have recruited more volunteers to provide support for Paul Rogers and Steve Cooney
the gym's Head Boxing Coaches including  experienced and qualified coaches; Charlie Dawson, Alan Reid, Suzie Turner, Kelly Morgan, Darren Sherwood and Dalton Harfield.
Paul Rogers the gym's head boxing coach explained: "The reason I got involved in coaching Boxing initially was to put something back into a sport that changed many aspects of my life for the better.
"People often use the word respect and for me Boxing taught me to respect how my actions impacted on others." He continued, "My parents had installed good manners and honesty, how-ever there was nothing like the discipline that boxing teaches you. Watching Adults and  Children reach their true potential in life. Releasing energy through sport is powerful and rewarding."
Scrappers Gym has attracted a lot of attention over the past years with visits from two-time world champion Nathan Cleverly and has improved access to sport for young people and built a stronger community.
We have developed links with local schools Lydiard Park Academy, Swindon Academy and Nova Hreod School providing non-contact Boxing Skills classes during P.E. lessons delivering a structured skills
programme for the young people. We have developed the programme further to provide after school
Boxing Clubs creating a pathway from school sports into regular club engagement.
During the period 1 st April 2015 to 31 st March 2016 we worked directly with 1,930 children and young
people aged 5 -19 years of age and 1,495 aged 20 and above helping them to increase their fitness,
confidence and self-esteem.
We run Women's Boxing Sessions, Box Skills Sessions for children between the age of 5-13 years and Children's Boxing Sport Camp during the school holidays.
Scrappers Boxing Gym and Community Fitness Centre is open:
 Monday Box Fit session with Kelly Morgan 8pm – 9pm
 Tuesday, Wednesday, Thursday evenings: 7:00pm – 8:30pm
 Monday: 10:00am – 2:00pm
 Friday: 10:00am – 2:00pm
 Saturday 10.00 – 11:00am – Box Fit session with Kelly Morgan
For only £3.00 per session just come along and train with the support of experienced and qualified boxing and fitness coaches.
Contact details:
Olivia McCann, Project Manager Tel: 01793 513982 or 07739023290, E-mail: [email protected]
Gallery of the party: