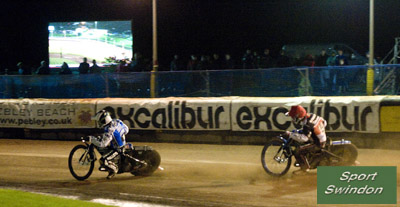 Swindon v Eastbourne.
(Archive images used)
SWINDON moved up to second in the Elite League table despite suffering a 48-42 defeat against Eastbourne at Arlington.
After a tight affair, the Excalibur Communication Robins came out with a point to move above Kings Lynn on points difference with both sides level on 21 – five behind league leaders Wolverhampton.
Despite finding themselves six behind after two races, the visiting Robins fought back to take a two-point lead in Heat 7 – yet the Eagles came on strong to take a narrow victory.
Eddie Kennett top scored for Swindon against his former club, whilst guesting No.1 Scott Nicholls also notched double-figures.
Aussie racer Troy Batchelor bagged paid double-figures despite being the victim of a controversial Heat 13 exclusion, whilst reserve Ashley Birks enjoyed much improved fortunes – earning his first race win in Robins colours on his way to 7+1.
EASTBOURNE 48: Bjarne Pedersen 13, Lukas Dryml 12+1, Denis Gizatullin 9+1, Timo Lahti 6, Cameron Woodward 6, Simon Gustafsson 2+1, Adam Shields r/r.
SWINDON 42: Edward Kennett 10+1, Scott Nicholls 10, Troy Batchelor 8+2, Ashley Birks 7+1, Peter Kildemand 5+1, Kacper Gomolski 2+2, Nick Morris r/r.