Brummies squeeze a win at the Abbey – Report.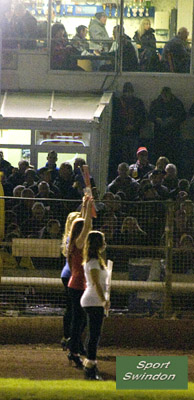 Elite League: SWINDON 45 BIRMINGHAM 47
DEPLETED Swindon went down to their first home defeat of the season at the Abbey on Thursday – having come agonisingly close to a remarkable comeback against Birmingham.
The Excalibur Robins looked down and out when they trailed by ten points with four heats to go, having become the latest side to fall victim to the astonishing scoring power of Brummies reserve Martin Smolinski.
The German has already won a number of matches for his play-off chasing side this season, and a series of Smolinski victories headed up race advantages for the visitors as Swindon, without three of their regular top five riders, hit several problems.
The most serious of those came in Heat 9 when, with the Robins already six points down, Edward Kennett suffered mechanical failure on the start-line as Smolinski and Jason Doyle raced clear of guest Rory Schlein.
When the home side deployed stand-in skipper Troy Batchelor for double-points in Heat 11, he was denied the maximum six by the inspired Smolinski and all hope looked lost for the Robins.
But their own reserve Kacper Gomolski stepped up to the plate as he and Schlein finally got the better of Smolinski in Heat 12 for a Swindon 5-1.
Robins' other guest Davey Watt made it three wins out of four in Heat 13 with Batchelor kept at the back by Doyle and Chris Harris, but Gomolski and Kennett gave Swindon a chance ahead of the final race by heading home Josh Auty and Nico Covatti, leaving them just two points down.
Despite facing that man Smolinski again, the impossible looked possible when Watt and Batchelor made good starts in the decider, only for Doyle to crash into the fence – and although the Brummies man was disqualified, it also offered his team-mate a second chance.
Smolinski duly took that chance, flying from the start and holding off Batchelor's every move, to leave the Robins close, but not quite close enough.
SWINDON 45: Troy Batchelor 12, Davey Watt 10+1, Rory Schlein 8+1, Kacper Gomolski 8+1, Edward Kennett 6, Ashley Birks 1, Nick Morris r/r.
BIRMINGHAM 47: Martin Smolinski 18+1, Jason Doyle 7+1, Chris Harris 7, Danny King 6+1, Josh Auty 5+1, Ben Barker 2+1, Nico Covatti 2+1.
Copy:
ENDS