New roller – we'll roll for it.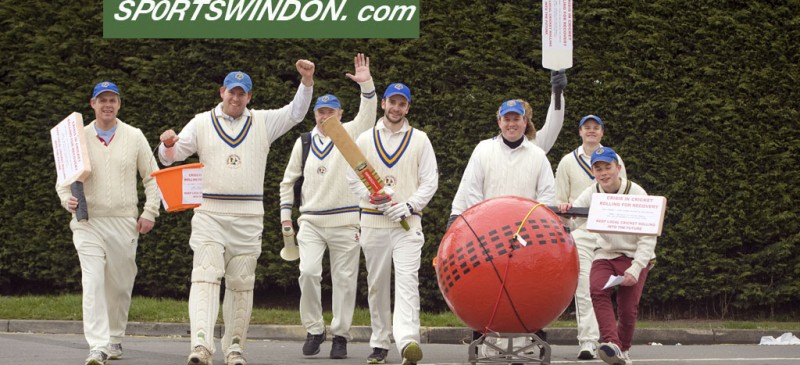 There is a crisis in Cricket! (Other than my umpiring)
Last summer was possibly the worst in living memory for cricket. Not on the field, but in the air.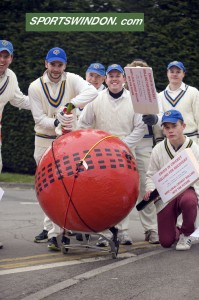 With the wettest summer in history, many teams dependent on match fees for income found their takings halved.
Swindon's United Churches Cricket Club was no exception, only that was not the end of the fiscal problems.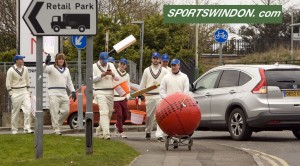 To quote from the flyer handed out during a recent fundraising march from their pitch at the village of Sevenhampton – known by James Bond fans as the home of 007's creator Ian Fleming – to Swindon town centre, rolling a giant cricket ball and collecting donations from members of the public.
"Swindon United Churches Cricket Club has served Swindon for the best part of a century – providing play for a wide range of people in the town.
"Most have not been churchgoers and many have not come as experienced cricketers. Facilities and hospitality have been provided and extended to people of a wide range of ages and backgrounds, and over our history many thousands of visiting players from Swindon have also benefited.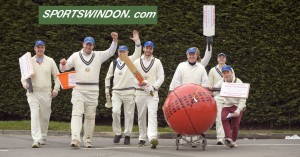 "The wettest summer on record in 2012 in England caused real problems to small local cricket clubs like ours that rely on match subs from members to finance all the materials and equipment needed to maintain a cricket ground.
"In the middle of all that, this club incurred major expense when the pitch roller broke down, needing a new engine. So we are rolling a giant ball into Swindon asking our friends and neighbours and all we meet to make a contribution to get things going again."
The club plays in the Saturday Wiltshire League and the Swindon Evening League and also has a programme of friendly fixtures.
Any cricketers looking for a game contact: David Martin via the website and any donations will be well received.