Swindon win against Kings Lynn after SCB judgement.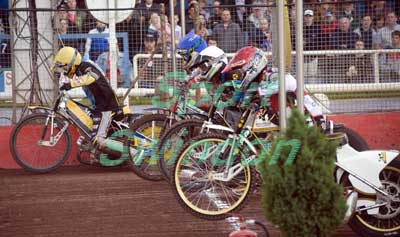 THE Speedway Control Bureau have issued the following statement regarding the Swindon v King's Lynn Elite League match that was staged on Thursday July 19.


Elite League: SWINDON v KINGS LYNN: Thursday 19th July 2012
At this Meeting Kings Lynn contravened The Speedway Regulations by using Cory Gathercole as a Guest to replace the Doubling-Up position occupied by David Howe & Ulrich Ostergaard.
Kings Lynn were only entitled to use a PL Rider whose Match Average was 6.00 or less.
Cory Gathercole, with a PL MA was 6.50 was therefore not eligible and on the night he scored 2 (+1) points and the Meeting ended as a 45 – 45 draw with Swindon gaining 1 Match Point and Kings Lynn 2 Match points.
Accordingly as permitted by SR 15.10.1 the Meeting Result is now revised by deducting Gathercole's points and is therefore:
SWINDON 45 KINGS LYNN 43
The effect is that Swindon have 2 Match Points and Kings Lynn 1 Match Point.