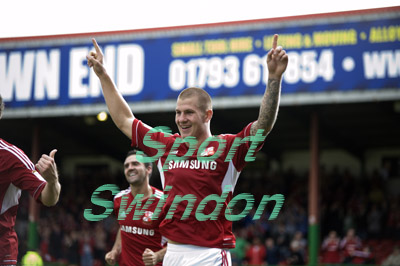 Swindon overcame 10 men MK Dons with a James Collins (or was it Matt Richie, the debate continues) goal just before half time.
The sending off of Dean Lewington for violent conduct was the turning point of the game. The first half showed Swindon at their best with free flowing passing game, but the second half MK Dons went defensive giving Town few chances to excel.
Lewingtons sending off gave the Don's a record of 4 sendings off in 4 games and continued Lewington's nightmares at the County Ground, where he was carried off with a broken leg in a previous game here.
Matt Richie was voted Man of the Match
From the dugout:
Gallery at:  http://www.swindontownfc.co.uk/news/article/reporttown10mk-333778.aspx
Gallery:
Sportswindon.com is part of Calyx Picture Agency.