Swindon Robins v Birmingham preview.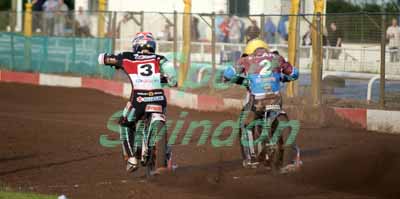 SWINDON start a hectic month of action with a tough trip to Birmingham on Thursday (7.30).
The Robins have no less than NINE Elite League meetings in the diary for August – plus Simon Stead's testimonial!
And Stead is relishing the prospect of making up for lost time after a bad run of rain-offs – starting with the trip to the second city.
He said: "It's been a nightmare with the weather and we've got to hope August is kind to us so we can get through the fixtures.
"It's not a bad thing to be so busy because it means we can all get some momentum going and I must admit I'm looking forward to it.
"It's so nice to be part of a successful team this season and I personally feel we have what it takes to go all the way and win the league. There's a long way to go but we can do it I'm sure."
Double-up riders Jason Doyle and Nick Morris are both available for the trip to Perry Barr and Birmingham have doubts over skipper Danny King who suffered rib damage in the British Final on Monday.
BIRMINGHAM: Bjarne Pedersen, Josh Auty, Danny King, Ben Barker, Seb Ulamek, Kyle Newman, Martin Smolinski.


SWINDON: Hans Andersen, Jason Doyle, Simon Stead, Troy Batchelor, Peter Kildemand, Nick Morris, Dawid Lampart.
Copy: www.swindonrobins.co