Swindon get max point against Poole.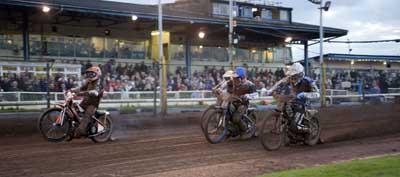 SWINDON moved to within one point of Elite League leaders Poole with a terrific 49-41 win over the Pirates at Blunsdon in front of the Sky Sports live cameras.
Skipper Hans Andersen was the Robins' hero with a sensational ride in a re-started Heat 15 to pass Poole star Darcy Ward on the last lap and secure maximum points for the home side – and also send the visitors away point-less.
Two heavy pre-meeting downpours made the early conditions tricky, although track staff had worked wonders to get the circuit into a fit condition for racing.
But the Pirates' big guns were unable to take a grip of the meeting with the Robins dominating the race wins although the scores were still level after Heat 6.
Swindon edged in front with a win for Peter Kildemand over Ward in Heat 7 and doubled their advantage to four points with another 4-2 in the next race.
Four successive shared heats followed, the clear highlight being youngster Nick Morris's win over Chris Holder in Heat 11 as Kildemand missed out.
But Kildemand quickly recovered to team up with Andersen for the only 5-1 of the night with Holder relegated to the back in Heat 13 as the Robins closed in on victory.
There was drama in Heat 14 when early leader Troy Batchelor hit trouble on turns three and four but Morris held a superb outside line to work his way to the front.
That left Swindon needing a share in Heat 15 for all three league points, and their hopes were hit when Kildemand was disqualified for a first-bend fall – but Andersen delighted the crowd by reeling in Ward in the re-run and charging inside him on the back-straight before expertly holding his nerve on the way to the flag.
Robins boss Alun Rossiter said: "The conditions were a big leveller for a meeting in which both sides really wanted to flex their muscles and show what we have, and the weather made it hard for everyone.
"Hans seems to have gained a lot of confidence in the last month or so, he's doing better in the Grand Prix and he seems to have got his old swagger and bit of arrogance back, and also I think it was Nick's rides which helped us pull it out of the bag.
"He had one race win over Holder and then he came from nowhere in Heat 14 when Troy lost his cut-out. It's a really good result for us."

SWINDON 49: Hans Andersen 12, Nick Morris 8, Dawid Lampart 8, Peter Kildemand 6+2, Troy Batchelor 6+1, Jason Doyle 6, Simon Stead 3+1.
POOLE 41: Darcy Ward 12+2, Ricky Kling 8+2, Sam Masters 8+1, Dennis Andersson 7+1, Chris Holder 6+1, Linus Eklof 0, Krzysztof Kasprzak r/r.
Copy: www.swindonrobins.co