Speedway. New commercial partner.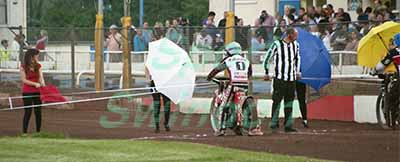 SWINDON Speedway are delighted to announce a commercial partnership with the local IT and mobile telecommunications specialist, Excalibur Communications Ltd.
Excalibur has evolved as a business to meet the demands of their corporate clients. Over the years, Excalibur has built an enviable reputation for being one of the best specialist mobile communications and IT services suppliers in the UK by ensuring that customers are always the first priority. It is the aim of Excalibur to provide the right solution for your needs.
Excalibur CEO James Phipps commented: "We are delighted to enter into this partnership with the Robins. Part of our association with the club is to jointly develop a Community Initiative which we are very excited about.
"In association with the club we intend to promote the speedway club in the local schools and we have sponsored the purchase of a new 2012 Robins racesuit and bike covers for junior rider Anders Rowe, who you can regularly see riding on the junior track before meetings.
"I am sure that our coordinated efforts will be successful in introducing a new generation of supporters to speedway at Blunsdon.
Our business referral scheme will ensure that the Robins benefit directly from whatever new business we attract as a result of our partnership with the club.
Robins boss Gary Patchett was clearly delighted on securing the deal with Excalibur, and said: "It is impossible to understate the value of sponsorship and we are very happy to welcome Excalibur Communications into a growing portfolio of commercial partners at Swindon Speedway. In these times of financial uncertainty it is particularly pleasing that we are able to attract new sponsors to the sport.
"Sponsorship is a crucial part of the financing of any professional sport and speedway is no exception. The most important thing to remember, from the club perspective, is what we can do to increase the value of the package to the sponsor. We can achieve this in a number of different ways e.g. track and website advertising and consequently the introduction of new business to all of our commercial partners.
"Being associated with a successful team also creates a feel good factor for all concerned. In this way both the club and the sponsor benefit from the association and that, in turn, perpetuates the partnership year on year. I would urge our fans to support all of our sponsors wherever possible."
Copy from Swindon Speedway