Speedway back at the Abbey after rain check. Preview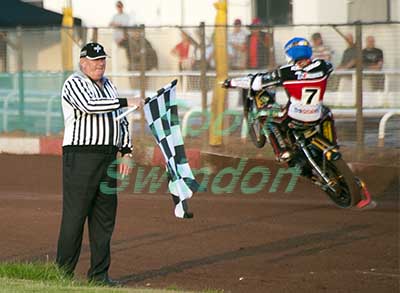 SWINDON ROBINS Speedway look to relaunch their Elite League play-off push when Wolverhampton visit the Abbey on Thursday (7.30).
And club bosses are hoping the enforced break in racing due to the poor weather will mean speedway-starved fans will flock to Blunsdon in big numbers as the Robins are one of the top teams in the country.
Talented British youngster Ashley Birks comes in at reserve for Alun Rossiter's side as a guest replacement for the unavailable Robin Aspegren but that's the only change in a powerhouse outfit.
Rossiter, meanwhile, is keen to ensure his side avoid complacency against the West Midlands side who have been badly hit by injuries this season.
He said: "It's good for all the boys to finally get back to racing at home, and my message is that all opposing teams have to be treated with the utmost respect.
"We know Wolverhampton arrive here in the middle of a tough time at the moment, but you never take anything for granted in this game.
"I've seen it happen before where things can go wrong, and it's similar in many ways to the scenario we had when we went to Wolves recently, maybe we thought beforehand it would be easy and it almost cost us."
ROBINS: Hans Andersen, Nick Morris, Simon Stead, Troy Batchelor, Peter Kildemand, Ashley Birks, Jason Doyle.
WOLVERHAMPTON: Freddie Lindgren, Lukasz Sowka, Robert Miskowiak R/R, Ty Proctor, Rory Schlein, Thomas Jorgensen, Kenny Ingalls.
From Swindon Robins Speedway.